Johnsonville Achieve Forecast Accuracy Gains of 15-25% with ForecastX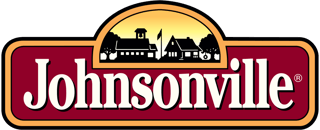 Wisconsin-based Johnsonville Sausage is the No. 1 national brand of brats, Italian sausage, smoked-cooked links, fresh breakfast sausage and meatballs. Johnsonville employs approximately 1,400 members. Each member takes ownership of product quality to ensure the excellence and "Big Flavor" of Johnsonville Sausage. Founded in 1945 by the late Ralph F. and Alice Stayer, the company remains privately owned today.
Johnsonville Sausage faced major forecasting challenges due to their highly seasonal business. Simple forecasting methods using Excel and their ERP system were unable to fully capture the variation in their business, resulting in various planning difficulties. To gain the needed visibility, Johnsonville chose the ForecastX Wizard to supplement their planning process. The Wizard's simplicity allows Johnsonville's planners to produce a powerful statistical forecast without any statisticians on staff. With the Wizard's flexible Excel platform, Johnsonville is able to produce supplemental reports and analysis as needed. The Wizard also enables Johnsonville to produce alternate forecasts quickly and easily, allowing experimentation to drive further improvements where their ERP system could not.
With the ForecastX Wizard, Johnsonville was able to achieve forecast accuracy gains of 15-25% on their core items, many of which now have forecast error in the single digits. With the visibility provided, Johnsonville was able to gain key insights into the factors driving their business, from seasonality to promotions and competitor activity. These insights allow Johnsonville to build more effective supply plans and achieve closer relationships with major retailers. "We love the ForecastX Wizard. I can't imagine planning without it," says Naaman Dolphus, demand planner at Johnsonville Sausage.
"We love the ForecastX Wizard. I can't imagine planning without it."

- Naaman Dolphus, Demand Planner at Johnsonville Sausage.